Product Label Refresh & Redesign
USANA labels are about to have a fresh, modern design. This crisp, new look highlights the product name and its benefits. And our commitment to the environment is also clearer than ever:
1. New bottles will be made with 25% post-consumer recycled material
2. Bottles will be smaller to reduce the amount of plastic used
3. Instructions on the label will help you recycle the plastic properly
To ensure nothing goes to waste, worldwide label updates will be made in a sustainable, environmentally friendly way, based on current label and bottle runout dates.
These updates will roll out globally over the next two years.
So, when you receive a USANA product in an upcoming order and it looks different from what you're used to, please know: it's still the same, premium health product you've come to expect from USANA—with a new, updated look.
Explore our Frequently Asked Questions to learn more about this update and what you and your customers can expect as we roll out these new labels and bottles worldwide.
Frequently Asked Questions
Q. Why is USANA updating its labels?
A. Brands frequently update the look of packaging to appeal to a broader audience, keep up with changing trends in the marketplace, and ensure the brand remains relevant over time. USANA is updating its labels to enhance the customer product experience. The new labels showcase a modern, clean, scientific, fresh, and approachable brand. The label focuses on the product name and its benefits to the customer. Color coding the label also helps the customer understand product categories and benefits at a glance.
Q. When will I start to see the new labels on my products?
A. Right now, we do not have a schedule of new label and bottle updates. We anticipate the worldwide roll out could take up to two years for all markets and all product labels to be completely updated. As we have more information, we will share it with you.
Q. How will this impact imagery and other USANA assets and resources, like those available on the Share USANA Media Center, or print tools in my market?
A. USANA's marketing and creative teams are working together to create a process for updating assets as we roll out new labels for our markets. Similar to the last time we refreshed our labels in 2012, there will be a transition period where assets in the Media Center will feature both label designs. This is simply a reality of a change of this magnitude.
Q. How are we communicating this update to USANA customers?
A. We'll be communicating the label updates in the following ways:
USANA packing slips will include a message to let customers know they may be receiving a product with an updated label.
The USANA shopping cart will have messages on the product detail pages to inform customers of when they may be receiving a product with an updated label, in addition to showcasing both the older and the updated label.
For Associates, the USANA News section of The Hub will include information when a new product label has been released in your market.
An updated list of worldwide label updates will be provided for Associates under the Upcoming Label Updates tab.
Q. How will I know if a product contains InCelligence or other special USANA technologies?
A. This information will be included on the front of each label. Our redesign allows more space on the label to focus on the name of the product, what's inside, and the benefits of the product for you and our customers. Products containing special technologies, like InCelligence or Hybrid Technology, will have this information on the label, front and center, so it's easily read and understood by all our customers.
Q. Is USANA eliminating "the globe" with this label refresh?
A. The USANA "globe" brand mark has come to symbolize our commitment to creating "The Healthiest Family on Earth," which is our vision statement as a company. The globe is still part of our corporate branding, and you will continue to see it on the caps of almost all of our supplement bottles, in addition to much of our corporate branding. We have chosen to focus on one singular globe, rather than the multiple globes that are part of our current label designs. This helps to ensure brand integrity and recognition of the globe moving forward.
Q. How will the new bottles be sustainable and environmentally friendly?
A. USANA is updating the packaging of our products to better reflect our belief that we have a responsibility to be a sustainable, environmentally friendly company. We are tackling this in four key areas:
Our bottles are and have always been recyclable—now the instructions for recycling will be right on the label. These instructions will be based on market.
Our new bottles will be made with 25% post-consumer recycled material.
Bottles will be smaller to better fit the amount of product and reduce the amount of plastic used.
Label and bottle updates will be made in a sustainable, environmentally friendly way—staggered and based on label runout dates so nothing goes to waste.
Q. What does it mean that the label and bottle updates will be staggered?
A. Product labels are produced in bulk and are reprinted at different times, based on when a label is running out in a particular market. Our teams will monitor each market's product labels and bottle supplies. As they come up for reorder, instead of placing an order for the old label or bottle, we will replace it with the updated label and new bottle. This means you may receive a mix of product labels in your orders over the next year or two—some products will have new labels and bottles, and some products will have the old ones. Replacing labels and bottles in this way reduces waste caused from throwing out old labels or bottles simply because we want all bottles and labels to have the same look at the same time. This is a more environmentally friendly way to update our labels and bottles.
Q. How can I recycle the bottles?
A. USANA's plastic bottles have always been recyclable. Simply remove the outer label before recycling. That said, please always check your local recycling rules and regulations, as they differ from market to market and city to city.
Q. What do I tell my customers about the label updates?
A. Please share with them our sustainability message and explain these updates are meant to enhance their experience with our products.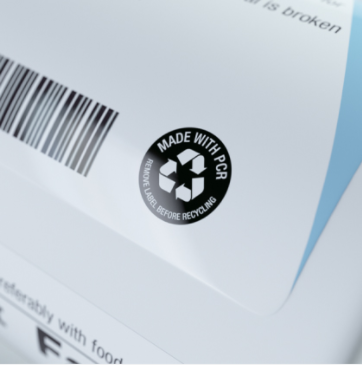 Last modified: October 1, 2020