USANA Europe Market Expansion

Germany, Italy, Romania, and Spain are officially open for business, and we couldn't be happier to welcome these beautiful countries to the USANA family. The new European markets elevate USANA's global presence from 20 to 24 markets, and there are high hopes for each of them.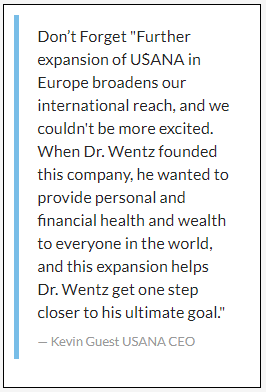 With these market openings, you are now able to take advantage of new business opportunities by enrolling Independent USANA Associates in these countries.
If you're interested in expanding your business to these markets, here are a few things to know:
Romania is one of the fastest growing economies in Europe, giving intrepid USANA Associates opportunities for growth.
Italy will join USANA as the 12th-largest direct selling market in the world— having grown 4.7 percent over the past three years—and the fourth-largest economy in Europe. Combined, you have a market with immense potential.
Germany is the fourth-largest direct selling industry in the world, has the largest economy in Europe and the largest population, and ranks as one of the top 10 most health-conscious countries in the world.
Spain also has an established direct selling industry. The country has the 14th-largest by nominal gross domestic product (GDP) in the world, the 30th-largest population, and a very healthy tourism industry as the third-most visited country in the world.
Customer service support is available in four new languages and each of the new markets will also have an in-market director of field development.
All sales aides, product tools, and necessary forms and documents have been updated and optimized for the new languages and markets.
Let's get to work spreading the word about our newest markets.
Last modified: June 6, 2022