2020 Americas and Europe Convention Goes Digital
I hope you and your loved ones are doing well during this challenging time.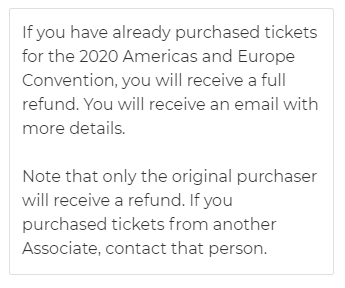 After weighing every option and with plenty of careful consideration, we have decided to shift our 2020 USANA Live Americas and Europe Convention to an online event.
This decision wasn't easy. But we believe it is the best course of action, one made with the utmost respect to the health and safety of USANA business owners like yourself, our employees, and everyone else involved in the making of each incredible USANA experience.
If you've already purchased tickets to the Americas and Europe Convention, don't worry—you'll automatically receive a full refund.
While we can't connect in-person this August, I am excited for you to tune in to the virtual event, which will be available for everyone from the Americas and Europe. Look forward to more details soon.
I'm so impressed by the work you continue to do every day, in spite of an ever-changing world. Your ingenuity and resourcefulness in challenging times is beyond inspiring, and I'm looking forward to sharing that energy when we host our livestream.
From all of us at USANA Health Sciences, thank you for your understanding.
Please stay healthy, and stay safe.
Sincerely,
Jeannie Price, Executive Vice President of Sales for the Americas and Europe
Last modified: April 24, 2020