Active Nutrition – Fuel Your Journey

Support your life in motion with USANA Active Nutrition. This comprehensive line of products takes a mindful approach to daily, whole-body health. Be empowered to take purposeful action to embrace healthy choices and make the most of every day.
The Active Nutrition Vision
Love Your Body. Change Your World.
The Active Nutrition Mission Statement
A holistic approach to weight management that feeds the body and educates the mind, supporting the goals of self-acceptance and a positive health journey.
The Power to Progress
Quality of life isn't a number on the scale—it's about how you feel. Life is meant to be lived to the fullest, and every element of a balanced lifestyle is amplified when you feel great both inside and out. That's why we created Active Nutrition. Combined with daily movement, a whole foods diet, mindfulness, and self-acceptance, you can shape lifelong habits and change your life for the better.
The Three Pillars of Active Nutrition
The USANA Active Nutrition line covers three categories: weight management, digestive health, and energy and hydration. Some names will sound familiar—certain USANA products have moved under the Active Nutrition line. Each product is:
Gluten free
Non-GMO
Made with natural ingredients
Convenient
Manufactured in-house
Learn more about each exciting product below.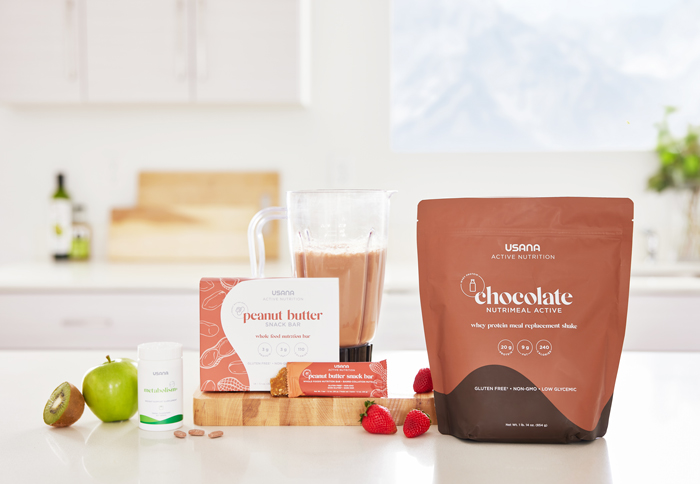 Weight Management
Nutrimeal Active Meal Replacement
Stay on top of personal wellness goals even on the busiest days with the balanced nutrition of USANA Nutrimeal Active. Nutritious ingredients and less sugar than Nutrimeal help power your body with sustainable energy for the entire day.
Usage
Add three (3) scoops to 300–360 mL of cold water, shake, and enjoy.
Serving Sizes Available
14-Serving Gusset
14-Serving Single-Serve Packets (coming soon)
Flavors
Key Features
240 calories per serving
20 grams of protein
8–9 grams of dietary fiber
9 grams of fat
10 grams or less of sugar
No artificial sweeteners
Gluten free†
Key Benefits
Offers a balanced blend of micro- and macronutrients
Supports healthy digestion
Keeps you feeling fuller, longer
Formulated with lower sugar without compromising on flavor and satiety
Nutrimeal
Better dietary choices are doable and delicious with convenient Nutrimeal meal-replacement shakes. It's packed with fiber and protein for a quick and health-friendly meal or snack to curb cravings and support your goals. Nutrimeal Active offers the same meal-replacement benefits as Nutrimeal with half the sugar and more protein. Choose the one that's right for you.
Usage
Add three (3) scoops to 300–360 mL of cold water, shake, and enjoy.
Serving Sizes Available
9-Serving Gusset
28-Serving Single-Serve Packets
Flavors
Dutch Chocolate
French Vanilla
Key Features
240 calories per serving
15–17 grams of protein
7–8 grams of dietary fiber
7 grams of fat
18 grams  of sugar
No artificial sweeteners
Gluten free†
Key Benefits
Delivers convenient, balanced nutrition on the go
Keeps you feeling energized
Helps control hunger and curb cravings
Supports weight-management goals
Metabolism+
When combined with other Active Nutrition products and healthy living activities, Metabolism+ helps support and maintain a robust metabolism. It fuels your body to supply you with the energy you need to thrive.
Usage
Adults take one (1) tablet three times daily, preferably with a meal.
Active Ingredients
Green tea extract to aid metabolism
USANA Bioflavonoid Complex for healthy blood-glucose maintenance that is already in the normal range
Platycodon Grandiflorum to help optimize normal fat breakdown
Key Benefits
Keeps fat from piling up and slowing you down
Maintains energy that lasts all day long
Maintains healthy blood sugar levels already in normal range
Supports healthy HDL cholesterol levels already in normal range
Peanut Butter Snack Bar
Packed with high-quality, real ingredients, the Peanut Butter Snack Bar satisfies cravings in a nutritious and tasty way. This convenient snack is ideal for immediate needs—energy and satiation—and long-term weight goals. Grab one on the go and enjoy the flavor and texture combination of dry roasted peanuts, peanut flour, peanut oil, and peanut butter.
Serving Sizes Available
14 individually wrapped bars
Key Features
110 calories per 1.1 oz bar
3 grams of protein
4 grams of dietary fiber
3 grams of fat
3 grams of sugar
Gluten free
Vegan
Key Benefits
Provides a health-friendly, on-the-go snack option
Supports weight management
Supplies a good source of fiber
Contains ingredients you'll easily recognize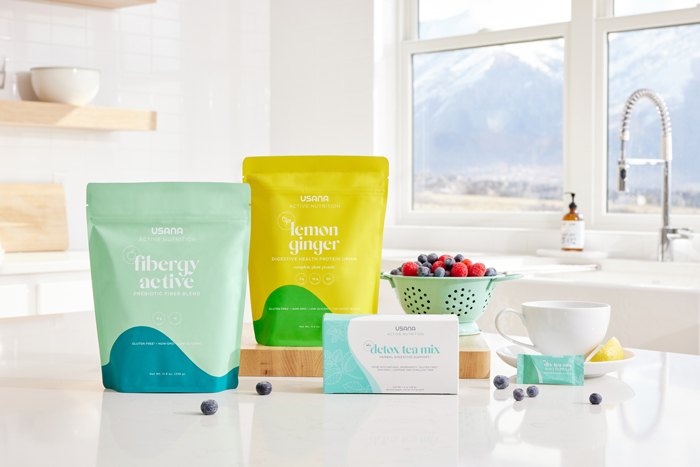 Digestive Health
Digestive Health Protein Drink
A good source of protein and fiber, Digestive Health Protein Drink is an easy-to-digest drink ideal for those looking to increase their protein intake and who prefer a plant-based diet. It's a low-glycemic snack option with low natural sugars for easy digestion.
Usage
Add one (1) scoop to 235–360 mL of cold water and mix thoroughly.
Serving Sizes Available
14-Serving Gusset
14-Serving Single-Serve Packets (coming soon)
Flavors
 Key Features
80 calories per serving
10 grams of plant-based protein
5 grams of dietary fiber
1 gram of fat
1 gram or less of natural sugar
Gluten free
Key Benefits
Helps maintain a healthy, happy gut microbiome
Provides plant-based protein that's easy on your stomach
Supports overall wellness with a full complement of important phytonutrients
Helps break down food and support healthy digestion
Detox Tea Mix
With the comfort of a warm cup of tea, the Detox Tea Mix offers relief for infrequent digestive upset. Purifying herbs and detoxifying botanicals combine to nurture digestive health while quieting occasional digestive discomfort. Pour up a soothing blend of herbs that's mildly sweet, and both refreshing and invigorating.
Usage
Add one (1) stick pack to 235–265 mL of hot water and mix thoroughly.
Serving Sizes Available
28-Serving Single-Serve Packets
Key Features
Contains dandelion root, peppermint leaf, and cinnamon bark extracts, and ginger root and licorice root powders
Formulated without added sugars or artificial ingredients
Gluten free
Key Benefits
Relieves occasional bloating and gas
Maintains a healthy gut microbiome
Calms  digestive discomfort
Supports regularity
Fibergy Active
Put optimal gut health within reach with Fibergy Active. This fiber-focused powder supports regular laxation and gut health, with nine hefty grams of fiber. Add a low-glycemic serving to any USANA shake for a seriously satisfying snack or meal replacement.
Usage
Add 12 grams to your USANA meal replacement shake.
Serving Sizes Available
Key Features
15 calories per serving
9 grams of dietary fiber
0 grams of fat
0 grams of added sugar
Gluten free
Key Benefits
Aids regularity to maintain good digestive health
Feeds and sustains your gut microbiome
Helps you feel satisfied after meals
Provides an ideal blend of soluble and insoluble fiber
Energy
Rev3 Energy and Rev3 Energy Surge Packs
Cleaner, smarter, stronger. Rev3 Energy Drink is all the power of an energy drink—refined. Rev3 enhances mental alertness and stamina with caffeine from natural sources like antioxidant-rich green and white tea. Rev3 Energy Surge Packs offers the same alternative to energy drinks in a ready-to-mix stick pack. While the Rev3 Energy Drink has a lightly carbonated, refreshing pomegranate flavor, the Surge Packs offer a lemon-tea flavor that works great in hot or cold water.
Usage – Rev3 Energy Surge Pack
Add one (1) packet per day to 415–475 mL of water or to taste.
Serving Sizes Available
12-Can Box of Rev3 Energy Drink
28-Serving Rev3 Energy Surge Pack Packets
Key Features
105 calories per can, or 10 calories per packet
25.5 grams of sugar per can, or 2 grams per packet
Contains a proprietary energy complex
Contains a proprietary phytochemical blend
Gluten free
Key Benefits
Enhances mental alertness and stamina with caffeine from natural sources like antioxidant-rich green and white tea
Supplies antioxidants for the maintenance of good health
Contains no artificial flavors, sweeteners, or colors
†For our customers sensitive to gluten: No gluten-containing ingredients are used in this product. However, Nutrimeal is produced in a facility that manufactures other foods that do contain gluten.
Resources
Educate yourself, your team, and your customers with these downloadable resources and tools.

Education and Training
Product Guide EN / SP / CH
Program Guides:

Jumpstart Kit EN / SP / CH
Transform Kit EN / SP / CH
Maintain Kit EN / SP / CH
Digestive Health Boost Kit EN / SP / CH
Sell Active Nutrition
Log on to the Share USANA Media Center to access and download the following tools:
Active Nutrition Product Brochure
Program Guides
60-Day Healthy Habits Journal
USANA's Guide to a Healthy & Happy Lifestyle
Mix It Up Shake Recipes Pamphlet
Active Nutrition Product Images and Social Shareables
Before and After Photo Guide
Additional Programs + Apps
You'll go the furthest with Active Nutrition when you combine the products with holistic lifestyle habits. Our resources listed above go a long way to support you and your customers on that path, and you can take it a step further with apps and devices our staff loves:
Calorie Trackers
The evidence supporting the use of calorie counting apps is mixed. Counting calories can help some and hinder others. If you have a customer who is interested in tracking their food intake and exercise, these apps can make the process easier.
MyFitnessPal. This app tracks your weight and calculates a recommended daily calorie intake. You can input your food into a food diary as well as input an exercise log. Its database includes more than five million foods. You can also input custom foods and dishes.
Lose It!. This app includes a food diary and exercise log and recommends a daily calorie intake. You can also participate in dietary challenges or create your own.
Cronometer. This app encourages you to "not just count your calories but to focus on your nutrition as a whole." You can count your calories, track micro- and macro-nutrients, track intermittent fasting if that's part of your plans, set weight goals, and more. Available in English only.
Exercise Apps
If you have the motivation to get moving but aren't sure where to start, fitness apps can be a great resource. Whether you simply want to track your mileage, or you're interested in yoga, Pilates, high intensity interval training, or weightlifting, these apps offer a wide variety of technology and workouts to keep you from getting bored.
MapMyFitness. If you're just getting started in a fitness routine, this app is a good place to get started tracking your movements. This app is useful for those who are interested in tracking miles and calories burned walking, jogging, running, or simply moving about your day.
Nike Training Club. This app has workouts on-demand that are recommended to you based on the information you provide when you first log on. Workouts range from 30 to 60 minutes and have video support.
Sweat Deck. This app is for beginners and experts alike, since you get to choose the exercises. It's based on a deck of 52 playing cards. You choose four exercises, one for each suit, and when a card comes up, you do as many reps as designated by the number on the card. The app has preloaded lots of exercises, and you can upload your own selections as well.
OpenFit. This app includes video of live fitness classes and includes a wide variety of types, including barre, circuit training, kickboxing, Pilates, strength training, yoga, and more. You can stream the classes live or choose previously recorded classes.
Fitness Trackers
Want to get a little more high tech and track your movement throughout the day? A fitness tracker—or wearable device—could be a positive addition to your wardrobe. While consistent, regular movement is most important, a wearable device can keep you accountable, and it gives you more data about your movements so you can make sure you're on track to meet your healthy living goals. Check out these options:
Apple Watch and Apple Fitness+

Apple Watch is a fantastic, multifunctional tool for tracking your movement throughout the day. And every new Watch comes with a free trial to Apple Fitness+, featuring world-class workouts. You can also compete with friends to keep fitness fun.

Garmin
FitBit
Samsung Galaxy Fit
Wyze Band
Meal Planning
Everyone has their own dietary restrictions and preferences. Regardless of your particular diet, meal planning and prepping is an important component of establishing habits that will last a lifetime. If you need extra support in this area, these apps can lend a hand.
MealPrepPro. While this app isn't free, you can try it for seven days to see if you like it before you subscribe. It offers meal plans personalized to your calorie and macronutrient needs.
Mealime Meal Plans. This app helps with meal planning and grocery shopping. It boasts more than 200 personalization options.
Yummly. This app also offers personalized meal plan recommendations and grocery store list planning support.
MealBoard. This app combines recipe management, meal planning, groceries, and pantry management. You can manage your recipes, ingredients, food categories, and meal types within its interface.
Sleep and Stress Management
Sleep and stress management are important parts of good health, and there are several apps available that can help with the different aspects of life that track sleep and also address your ability to get good sleep, including mental and emotional stresses.
Headspace. This app uses mindfulness and meditation to help with stress and anxiety.
Calm. This app is meant to help with sleep and meditation for better sleep, less stress, and less anxiety.
Sleep Cycle. This app tracks your sleep and analyzes patterns within your movements to wake you up in your lightest sleep phase. This helps you feel more rested.
10% Happier. This app includes guided meditations and practical teachings to help you deal with stress and anxiety in more productive and beneficial ways.
Reflectly. This app is a journal that utilizes artificial intelligence to help you structure and reflect upon your daily thoughts and problems.
Community
It takes work to reach healthy milestones, but we can tackle every day together. Join the Active Nutrition community on social media to make new connections, share your wins and lessons learned, swap wholesome recipes, join in on fun activities, and more. Plus, you'll be the first to hear about exciting Active Nutrition news.
Join us on Facebook at Facebook.com/USANAactive. Note: this page is operated by USANA Corporate and is based in English.
When sharing your Active Nutrition wins on your social channels, use the hashtags #LiveUSANA and #USANAactive to be part of the conversation.
Last modified: May 3, 2021